Trans-Alaska oil pipeline is scheduled for bypass surgery
, specifically routing around the pump building.
But the pipeline remains shut down, and crews were working from Fairbanks Monday to prepare to circumvent the leak. A 24-inch diameter, 170 foot-long line will bypass the concrete-encased pump station site and let Alyeska restart the pipeline.

"They're working as fast as they can, and we have welders working on it 24/7," Alyeska spokeswoman Katie Pesznecker said.
Here's a diagram of Pump Station #1:
And an overhead photo:
Here's a map of the TAPS system:
Pump Station #1's at the northern end. Note that some of the stations are on standby,
What is TAPS?
has all the info.
Pump Stations 1, 3, 4, 5, 7, 9, and 12 are now operating. Pump Stations 2, 6, 8, and 10 were placed on standby in 1996 and 1997, while Pump Stations 7 and 12 may be placed on standby over the next 5 to 10 years.
The Wiki page on TAPS has a whole section on
incidents
; worst spill was a bit of sabotage carried out in 1978, spilling 16k bbls. Only an inch hole though so it was up and running again a day later. Wiki also has a whole page on the
2006 issues with corrosion.
Where does all that oil go? The EIA doesn't tell you much about interstate traffic, just what goes between the 5 PADD districts, so you have to snoop about a bit to suss this info out. The California Energy Commission has a nice page detailing
Oil Supply Sources to California
. For 2009 Alaska accounted for 91,147 kb, divided by 365 you get 249 kb/d, out of 645 kb/d annual production total.
EIA says
2008 AK consumption was 134.5 kb/d; so 261.5 kb/d to Washington state? Certainly I doubt they still ship AK oil to foreign nations, not after
the stink that was raised in the 90s about that.
This is largely prompting snoozes from the industry at large, lots of stories about lack of interest in traders, and also
OPEC have stated
they won't step into the miniscule breach.
The 2006 corrosion issues halved throughput, according to that Wiki page; here's how things looked 2005 to 2007, utilizing that CEC page: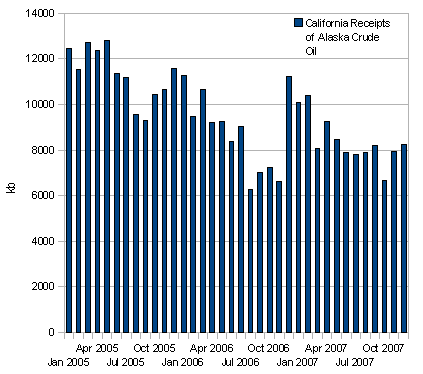 We see a definite bump for a few months, yet surprisingly there's little sign of things throttling down when looking at
monthly North Slope production.
Perhaps it was all just being dumped into tank farms?